Program Details
Mindful Parenting and Playgroup Wednesdays

December 12 / 10:30 AM - December 12 / 12:00 PM



NEW! Mindful Parenting and Playgroup Wednesdays 10:30 to noon at the Halifax Shambhala Centre

The Halifax Shambhala Centre is offering a weekly playgroup for parents with babies and preschool children who would like to connect with other families, enjoy each other's company and informally share their experiences of parenting as path. All are welcome, including parents who are new to the centre.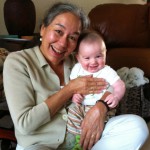 Becoming a parent opens up new opportunities for bringing mindfulness and basic goodness into everyday household life. Our playgroup format is open and relaxed, with laughter, listening, tips, favourite books, inspiration and conversation about the challenges and emotions of being parents in this world. We meet with the intention of creating community and supporting each other to see parenting as a worthy practice – especially when time for formal meditation is harder to find. Parents can also take the opportunity to meditate in the shrine room while their children are playing, as they wish.

Coffee and tea are provided by the centre, and a facilitator/childcare person will be there to help out.

What to bring:

- Treats, fruit, cookies etc to add to the enjoyment
- Any special snacks, juice etc that your baby or child needs
- A few toys for children to share during play
- Baby blankets to cover the zabuton for your baby to lie on

Suggested contribution:

$5 for coffee/tea and use of the centre space. (The centre is saving up to purchase a changing table.)

When:

10:30 am to 12:00 noon on Wednesdays

For more information, contact: Joanne Bihari joannewatkins40@hotmail.com or Kerstin Martin kerstinmartin@eastlink.ca
Go to Halifax's website